Porn Site Review
Site Information
Content Quality:
Content Amount:
Updates Frequency:
Content Exclusivity:
Design & Navigation:
Overall rating:

91

/100

Prices:
$39.99 / 30 days, $69.99 / 90 days, $117.99 / 180 days, $169.99 / 365 days
Content:
Pictures: 9'000+ (91 scenes); High resolution: Yes; Zip archives: Yes
Videos: 91+ (length: ~40 min); HD: Yes; Full length: Yes; Streaming: Yes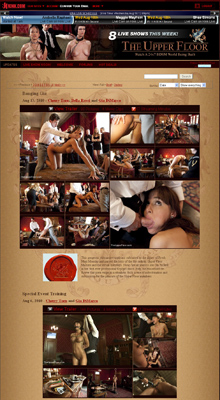 Shot #1 | Shot #2 | Shot #3
When I say that The Upper Floor is something much bigger than just a BDSM porn resource, I really do mean it. What I say is not just another cliche intended to make the review dedicated to this unique collection of BDSM videos more vivid - this is 100% true! Why? Well, because The Upper Floor aims at something previously unreachable - this sex slave training resource aims at creating a round-the-clock online BDSM sex universe immersing you into the depths of bondage and discipline world 24/7!
The Upper Floor is a brand-new sex slave training site that has been launched less than a year ago - though a sex slave training site that boasts of quite a collection of BDSM pics and movies already. Right now there are 91 of them full-time scenes available there and this number keeps on getting bigger and bigger with every weekly update but... Those weekly updates (sometimes they get released even more often, by the way) are still not the hottest part of this resource. What is the hottest is that here you will be offered to see slave girls getting trained LIVE once in every two to three days! No lies, everything's perfectly serious - interactive live shows that let the watchers define their development in a number of ways themselves are held here exactly this often. No additional payments required! I know that it sounds too good to be true - but it really is true.
The Upper Floor is a unique resource - this is something that you understand from the very first seconds you spend inside it. Well, what did you expect from a site that belongs to Kink network and is considered one of the best in it? The guys from Kink surely know a lot about efficient training of slave girls and expose their knowledge at its best at every site they present to your attention. BTW, you will get some goodies from those sites for free too - just sign up to the newsletter and check out the Hot Deals section and that's it! This only ensures the overwhelming success of The Upper Floor, doesn't it? ;)
Visit The Upper Floor