Porn Site Review
Site Information
Content Quality:
Content Amount:
Updates Frequency:
Content Exclusivity:
Design & Navigation:
Overall rating:

90

/100

Prices:
$24.00 / 30 days, $99.00 / 180 days
Content:
Pictures: 3'000+ (90 scenes); High resolution: No; Zip archives: No
Videos: 80+ (length: ~15 min); HD: Yes; Full length: Yes; Streaming: No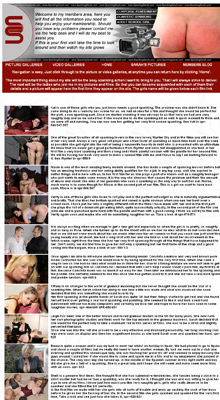 Shot #1 | Shot #2 | Shot #3
It must be due to the fact that Puritan moods are still awake and alive in England that spanking porn from this country is considered to be the best even these days. Tonight we will be taking a look at another site trying to prove this fact - trying it not without any success, that's for sure. The site's name is Spanking Sarah and, as you can understand from its name, spanking sex is the thing that's fully dedicated to. Oops, a little correction... If you are a fan of genuine bare hand spanking only, guess you need to know that here at this site you will also find quite some strict caning, paddling and flogging female punishment series. Oh you don't mind them? Let's proceed with this review then. ;)
The name of this resource makes you suspect that it's a personal one fully dedicated to spanking and flogging female punishment adventures of gorgeous British brunette Sarah. Yeah, there are quite some spanking videos featuring this perfect-ass ravenhead - but the cast of spanking women at Spanking Sarah is not limited to her only. You will see a good deal of different girls there - most of them, just like Sarah herself, getting spanked and fucked by older men and women. All in all, there are around 90 sets of spanking pics here and around 80 videos - all sporting blameless plots and quality too. The 2Mps movies are what impress me most here. Lets you see the whole action in detail, you know - even get the feeling like it's you who is spanking women on the pages of Spanking Sarah. :)
The updates here are regular and there's also a bunch of nice little freebies complementing the whole thing. Feel free to read the Members' blog or navigate through Sarah's private very special spanking and flogging female punishment pics when you feel the need to. ;)
So, if spanking women is your main fetish, I think I can hardly recommend you something better than Spanking Sarah - talking about amateur and Old-on-Young content at least. This British rookie and her kitty friends will mesmerize you!
Visit Spanking Sarah