Porn Site Review
Site Information
Content Quality:
Content Amount:
Updates Frequency:
Content Exclusivity:
Design & Navigation:
Overall rating:

90

/100

Prices:
$39.95 / 30 days, $79.95 / 90 days, $99.95 / 180 days
Content:
Pictures: 25'000+ (315 scenes); High resolution: No; Zip archives: No
Videos: 315+ (length: ~10 min); HD: No; Full length: Yes; Streaming: Yes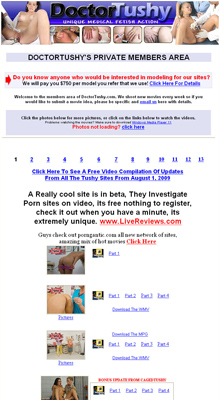 Shot #1 | Shot #2 | Shot #3
To those of you, guys, who think that medical fetish porn is restricted to vaginal exams with speculums: don't be so narrow-minded! Doctor Tushy is here to widen your horizons and to show you the thing that makes the kinky docs have even more fun during the gyno exams - anal checkup! Yeah, rectal exams are the main specialty of Dr Tushy - and if you love anal action, you will understand it. The stars of this site, the docs and nurses, I mean, really get it off from all that forbidden fondling - you can see it with your naked eyes here. They lube the girls' bungholes up so carefully, they plug them with little thermometers, they finger them so deep as if really trying to feel something in there: They do everything awesomely! Besides, what also needs being pointed out here is the beauty of the girls undergoing the gyno exams - most of them brag such mouthwatering big booties! Doctor Tushy is great - that's what I can tell after scrutinizing its free tour area. Now let's switch on to its insides - just like all them gynos do. ;)
Counting all the medical fetish videos and pic scenes that Dr Tushy has got to offer you was a real pain in the ass. Why? Because this site's archive is simply enormous! Okay, I know that my arithmetic skills often leave much to be desired - but I did my best here. :) I lost count of Doctor Tushy's scenes somewhere around 300 - but it's good that it was on the last page of the Members area. Therefore, it's safe to say that this site contains around 300 sets of medical fetish pics and exactly as many movies. The number of bonus updates and extra scenes from other sites? Well, this is where my poor counting skills become powerless completely - there are so many of them and they are scattered all around the Members area so: Let me get away by saying that there are MANY of them, okay? :)
I love everything at Doctor Tushy - quality of content and updating schedule surely not being exceptions. Medical fetish + anal porn combined - that's a wonderful porn cocktail!
Visit Doctor Tushy