Porn Site Review
Site Information
Content Quality:
Content Amount:
Updates Frequency:
Content Exclusivity:
Design & Navigation:
Overall rating:

91

/100

Prices:
$29.95 / 30 days, $59.95 / 90 days, $99.95 / 180 days
Content:
Pictures: 72'200+ (380 scenes); High resolution: Yes; Zip archives: Yes
Videos: 380+ (length: ~40 min); HD: Yes; Full length: Yes; Streaming: Yes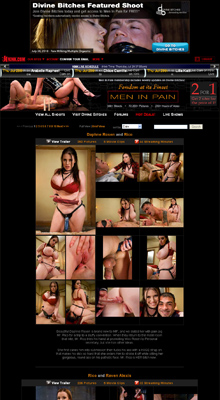 Shot #1 | Shot #2 | Shot #3
Bet that you already know the name of the toughest player in BDSM porn field, don't you? I think I have mentioned it a zillion times in my reviews already but, no problem, I will repeat it once again. It's Kink - and tonight I'm proud to review another awesome site included into it. Give it up for Men in Pain - a kick-ass collection of femdom porn featuring countless brutal mistresses and perfectly submissive male sex slaves!
There are lots of things that make Men in Pain a very special resource - starting from the fact that this compilation of 100% exclusive femdom videos and pics includes loads of strapon ass-fucking in every single scene! Every single femdom mistress featured by this site does her boy toy in the ass after continuous and very painful torture and femdom humiliation.
Another specialty is the fact that Men in Pain comes together with a breathtaking bonus - free access to Divine Bitches, which is another great collection of femdom pics and videos from Kink. That's a wonderful addition - even though Men in Pain itself brags a cool collection of 389 full-time scenes, it surely doesn't get any worse with the addition of 47 extra episodes from Divine Bitches. The total of 436 scenes: That's surely worth the money asked for the membership here - and even more! By the way, if you want more bonuses, sign up for the site's newsletter - it will get you informed about all the best deals and the freebies available.
The updates here are weekly, as far as I see, which means that by the time you get to read this review, the abovementioned choice of content is very likely to grow even larger. The quality is not something to complain about too - Men in Pain will please you with crystal-clear 1280x720 videos and fairly decent 1200x800Px pics. Not that bad, huh?
Well, I don't deny the possibility of running into an even better femdom porn resource out on the Net one day - but at the moment it seems rather vague. Men in Pain is a blameless one, no matter what angle you view it from!
Visit Men in Pain