Porn Site Review
Site Information
Content Quality:
Content Amount:
Updates Frequency:
Content Exclusivity:
Design & Navigation:
Overall rating:

90

/100

Prices:
$29.95 / 30 days, $56.95 / 90 days
Content:
Pictures: 12'500+ (400 scenes); High resolution: No; Zip archives: No
Videos: 410+ (length: ~15 min); HD: No; Full length: Yes; Streaming: Yes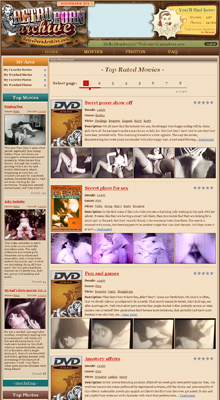 Shot #1 | Shot #2 | Shot #3
I've been to countless vintage porn sites during my career of a porn reviewer - and the funny thing is that all of them were attempting to build up comprehensive collections of vintage erotic content covering the whole history of porn. Pics from the very beginning of the photography era, retro porn videos dating back to the times when cinematography only started appearing: This stuff is incredibly hard to get these days. Well, I have to admit that I have just bumped into a retro vintage porn site making the same attempt to gather up as much XXX stuff from the past as possible - and managing it damn fine!
The site's name is Retro Porn Archive and it offers you an enormous collection of vintage erotic content - around 410 movies and well over 12,000 pics! The best thing about it is that it offers pictures of vintage girls dating back to the very beginning of the 20th century - even before 1910's! Hmm, I reckon that this might be the oldest stuff I have ever seen in my life. Retro Porn Archive gives you something bigger than just old porn - it gives you the chance to take a look at the history of the XXX industry as it is!
What is also cool is that this resource doesn't go too deeply into the present - the freshest scenes in its Members area date back to 1960's. The era of hippie vintage girls with fuzzy pussies: Mmm, that's something! What I love most about 1960's are the vintage videos from those days - just can't get enough of them! The best vintage pics at Retro Porn Archive, as I have already said, come from early 1900's - at least they are the ones I love the most. What about their quality? Well, as there was no HD equipment back in the day, it's not as clear as what porn sites offer you now. Nevertheless, I have to point out the good work the owners of this site did while digitalizing their content - it's qualitative and enjoyable enough. Man, this XXX heaven inhabited with thousands of vintage girls is simply irresistible - try it out and I guarantee you will love it!
Visit Retro Porn Archive